News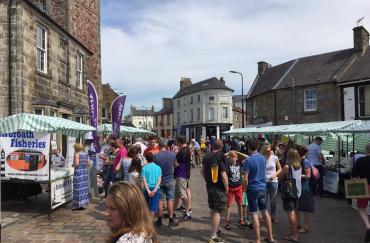 Kinross Farmers' Market this Saturday, (26 Oct 10am-2pm)!!
The last Kinross Farmers' Market this year!!
Saturday 26 October
10am-2pm / Kinross High Street
Visitors will be able to buy high quality, fresh food from local producers and artisan traders offering a wide variety of products. The Producers themselves run their own stalls so you can come and speak directly with them, asking them questions about their produce and purchase fresh quality products. While in the town centre why not also shop at the High Street's established businesses and meet friends in our vibrant community atmosphere.
The following fabulous stall holders will be there: Allan's Chilli Products, Arbroath Fisheries, Arran's Cheese Shop, The Blunt Chisel Brewery (beer), Caurnie Soaperie, Casella & Polegato (bread), Cloverlea Apiaries (honey), Gill's Tropic with Gee ZyPeeps Anderson, Good - Life Farming (veal, pork), Handam refill station (zero waste store), Heart~Body~Soul, Ivy & Twine Candles, Hunters of Kinross Butchers, Kinross First Responders, Light up my Heart (crafts), Nini's Natural Baking, North Star Quilting ,Poppy scotland, Planet Kuku (plant based food), Rootin' and Roamin' Free-Range Pork, Strathmore Produce (vegetables), Templetree Silver, The Doggie-Deli, Val's Scottish Tablet Treats, Victoria Gordon Art, Bodyshop with Julie Dodds and you can get your coffees at Unorthodox Roasters!!
For this event the High Street will be closed from entrance Burns Begg Street to entrance Montgomery Street. There would be special signs in place to guide traffic to alternative routes via Burns Begg Street/Sandport or Bowton Road/Montgomery Street.