Diary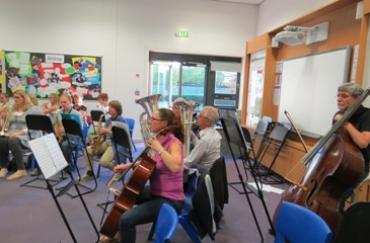 Kinross Kacophony Orchestra
Venue: Kinross Parish Church
Ticket price: £5
Event organiser: KLEO
Kinross Kacophony Orchestra
Come and listen to the recently formed Kinross Kacophony Orchestra!! Over the last few weeks we have been working on four or five pieces and we would like to perform them for you at our last rehearsal before the summer break!! Come along at 8pm to the Kinross Parish Church. Free entry!
Always wanted to play your instrument in a group but never had the opportunity? Get your instruments from your attic and start playing again! We invite all instruments to come along (all abilities welcome!) and we just see what kind of sound we produce with conductor Dougie Flower!
Sessions are on Wednesday evenings from 7pm-9pm at the Community Campus. Fee is £5. If interested please phone or e-mail Bouwien (01577 863107 or bouwien@kleo.org.uk) and let me know what kind of instrument you are intending to bring along.