Diary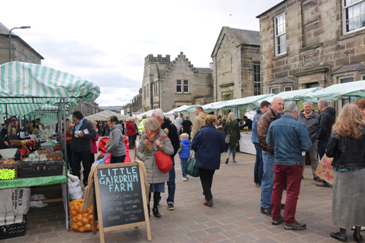 Kinross Farmers' Market, Apr
Venue: High Street Kinross
Event organiser: KLEO
The first Kinross Farmers' Market this year is on Saturday 27 April, 10am-2pm on Kinross High Street.
Kinross Farmers' Market takes place in the heart of Kinross' redesigned High Street on every 4th Saturday of the month from April to October. It's a great place to buy high quality, fresh food from local producers and artisan traders, shop at the High Street's established businesses and meet friends in our vibrant community atmosphere.
The following producers will sell their wares at the market: Allan's Chilli Products, Angel Cakes, Arbroath Fisheries, Arran's Cheese Shop, The Blunt Chisel Brewery (beer), Bodyshop at home, The Cat's Meow by Hazel (jewellery), Casella & Polegato (bread), Caurnie Soaps, Clover and Bramble (flowers and seeds), Cloverlea Apiaries (honey), Gill's Tropic (skincare products), Good-Life Farming (veal), Hunters of Kinross (butchers), John Cowan Baskets (basket maker), Kinross & District Men' Shed, Light Up My Heart (crafts), Mara Seaweed, MKAA Allotments (plants), Moira Hookham (Scandinavian dish cloths), Pamela Spowart (knitwear), Planet Kuku (plant based food), Rootin' and Roaming Pork, Salt Pig Sea Salts, Strathmore Produce (vegetables), Val's Scottish Tablet Treats
If you are a local farmer or a local trader you might consider a stall at the Kinross Farmers Market. Fee for a traditional farmers' market stall (6ftx4ft) is £45 or if you bring your own gazebo stall £35. Fee for community groups/charities, who bring their own gazebo, is £20. For more information and for booking a stall, please e-mail info@kleo.org.uk.
Meet the producers, click here: Producers
Come along and enjoy!!